Quo Vadis? Feast of St. Pope John Paul II
---
Where are you going?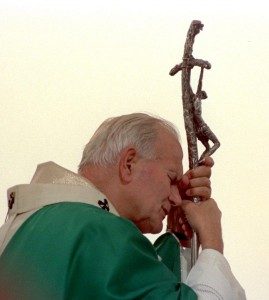 "Not all are called to be artists in the specific sense of the term," St. Pope John Paul II said, "Yet, as Genesis has it, all men and women are entrusted with the task of crafting their own life: in a certain sense, they are to make of it a work of art, a masterpiece."  This past Sunday was the feast day of Saint Pope John Paul II and it was a joy to spend the day teaching my Desert Bread class, sharing time with all the participants and exchanging the food of faith and the arts… as well as some really good Polish food in honor of the great Saint JPII!  Many thanks to Desert Breadian Chris Wilkie for the delicious sauerkraut, pierogies, and kielbasa we enjoyed as a taste of Poland alongside our spread of sandwiches and snacks. For a featured dessert, we had the favorite treat of John Paul II: Kremoka Papieska, the Papal Cream Cake named in his honor.  I was worried I'd be late to class after a drive to Little Poland in Copiague to pick up the treat as a special order from a wonderful Polish bakery, but all agreed a taste of that creamy confection was was well worth the long line and thick traffic!  We fed our minds, souls, and broke bread together, so we may continue working to make our lives into works of art, as John Paul II, himself a former actor and lifelong poet, would want.
To  me, the most moving part of Desert Bread this past Sunday was recounting this story of Karol Wotyla: In 1978, he dreaded being elected Pope and when he heard it was a possibility, he confided in the Archbishop of Krakow that he hoped to avoid it.  The Archbishop responded with a question, "Quo vadis?," referencing the legend that when St. Peter was fleeing Rome to avoid being killed, he met Jesus on the Appian Way and asked our risen Lord, "Quo vadis?" to which Jesus answered "Romam vado iterum crucifigi" (I am going to Rome to be crucified again).  With the Archbishop's poignant reminder, Karol Wotyla knew what he had to do: return to Rome and following the example of Christ and St. Peter, die to himself.
In honor of the feast of St. Pope John Paul II, I give you a poem written by the saint himself as Karol Wojtyla (foreshadowing his own future as successor of Peter, which he had no way of knowing would ever come about), art by Caravaggio inspired by St. Peter's return to Rome (upon which he was martyred) and music inspired by the quote, "Where are you going? (Quo Vadis)".  It's a great week, in the spirit of JPII to ask oneself: Where are you going?
If you are interested in finding out more or signing up for a future Desert Bread class, Subscribe to our mailing list!
Desert Bread participants enjoying a delicious meal and rich, faith-filled discussions following our workshop – October 22, 2017.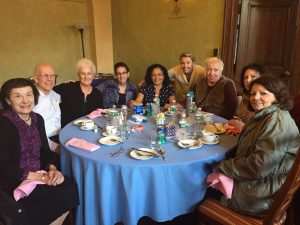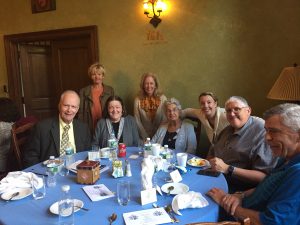 The menu included sauerkraut, kielbasa, pierogies, and Saint Pope John Paul II's favorite dessert: Kremoka Papieska, an amazing cream cake!