The Shelter of Your Arms: Feast of St. Therese of Lisieux
---
"The world is thy ship and not thy home," St. Therese of Lisieux reminds, lest we forget that we are, naturally, always longing for "a country we have never yet visited," to borrow a phrase from C.S.Lewis, on this earthly journey. In St. Therese's words, we hear an echo of Augustine: "You have made us for yourself, Lord, and our hearts are restless until they rest in you." Today I presented the first of Desert Bread's ongoing series of workshops on faith and the arts. It was a joy to share time with all the Desert Bread participants and exchange the food of faith and the arts. We fed our minds, souls, and broke bread together, so we may continue on our voyages while foreshadowing, through the rich treasure trove of the Catholic arts, the beauty of the home that awaits. We also collected donations to provide food for the poor. It was a beautiful day.
On this feast of St. Therese of Lisieux, I give you a poem written by the Little Flower herself, art by the great saint (an oyster shell painted by St. Therese depicting a scene that reminds of her famous quote, "The world is thy ship and not thy home,"), and music inspired by her quote:
Without leaving the shelter of your arms or even turning my head, I will distribute your treasures to the souls who come to me asking for food.
—St Therese of Lisieux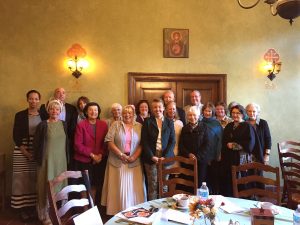 May Desert Bread humbly endeavor to do the same. Saint Therese of Lisieux, pray for us!